Welcome to Northside Toyota, your certified Toyota dealership in Sault Ste. Marie, Ontario. We are excited to present the All-New 2019 Toyota Corolla Hatchback.
THE ALL-NEW 2019 COROLLA HATCHBACK. DESIGNED FOR REAL LIFE

The 2019 Corolla Hatchback keeps the fun going. Low to the ground and lightweight,
this energetic hatch will reintroduce you to the thrill of driving. Its sporty exterior
highlights its practical five-door design, while the interior surrounds you in comfort
with plenty of room to take friends along for the ride. It's also up to speed with the
latest standard tech and our state-of-the-art Toyota Safety Sense 2.0™ that helps
provide peace of mind on every trip. So, whether you're running to the store or driving
to the lake, Corolla Hatchback finds fun around every corner.
EXTERIOR
 All-New Exterior Styling
The 2019 Corolla Hatchback makes a big and lasting first impression. With its sleek, aerodynamic shape, sporty wheel flares and arches, super stylish Bi-Beam LED headlights and available tailpipe diffuser. Designed with individuality in mind, you can select from several package finding the Hatchback perfect for your unique lifestyle and needs.
INTERIOR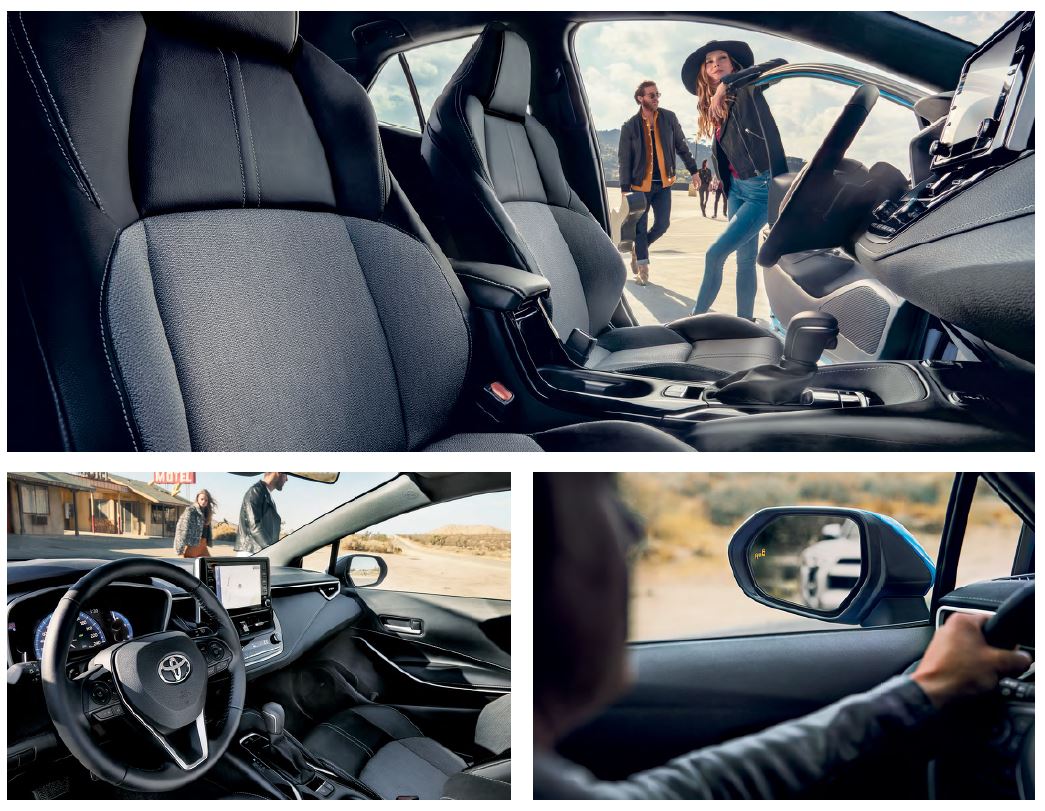 An Interior Made For Going 
Corolla Hatchback has a completely modernized, restyled driver centric cockpit, tailored to give you a thrilling feel behind the wheel.  Ergonomically designed seats along with perfectly positioned pedals and shifters, give you optimal control at every turn.  No detail was overlooked, the hatchback's interior was designed to stand out and give you total comfort.
TECHNOLOGY
PERFORMANCE
SHIFT INTO THE MOMENT
Corolla Hatchback's new Dynamic Force 2.0L, 4-cylinder, 168hp Direct Injection
4-stroke engine with Variable Valve Timing with Intelligence delivers improved driving
performance, and the added benefit of superior fuel efficiency. For driver's craving
greater control, the all-new six-speed intelligent Manual Transmission (iMT) with
downshift rev-matching automatically adjusts engine rotations when changing gears and
ensures smoother and faster transitions between gears. Corolla Hatchback also features
an all-new suspension, additional shock absorbers, active cornering assist, and vehicle
stability control, which all work together to enhance ride comfort and handling response
so that you have fast-paced fun the moment you step on the gas.
SAFETY
Toyota Safety Sense 2.0TM 7
No matter what roads you travel, Toyota is always there to keep you as safe as possible. That's why
the all-new Corolla Hatchback comes standard with an all-new safety innovation. Introducing
Toyota Safety Sense 2.0TM, an advanced suite of safety features that adds new technologies and
capabilities designed to help protect drivers, passengers, and others who share the road from harm.
That's peace of mind we can all get behind
Disclaimer: Drivers should always be responsible for their own safe driving. Please always pay attention to your surroundings and drive safely. Depending on the conditions of the roads, vehicles, weather, etc., the TSS systems may not work as intended. Please see toyota.ca, or Northside Toyota or Owner's Manual for details.
Visit us at Northside Toyota to learn more about the All New 2019 Corolla Hatchback.